Partners

Schoeps GmbH - the world's best studio condenser microphones and accessories.

German company specializing in the manufacture of condenser microphones. A rich assortment of Schoeps' products allows use these microphones for all types of high-quality audio recordings.

Colette

Modular "Colette" microphones consist of the combination of two basic units as shown – a microphone capsule and amplifier. The number of possible combinations is quite large – there are 20 types of microphone capsule and 6 basic types of amplifier. With very few exceptions, any type of capsule can be used with any type of amplifier.
CCM

The CCM represents the logical next step in the miniaturization of classic condenser microphone technology without any compromise in quality. The capsules are identical to the corresponding Colette models, while the amplifiers follow the same circuit principles as CMC amplifiers, with low-impedance balanced output circuitry that allows the use of microphone cables up to hundreds of feet long without interference. The self-noise is as low as that of the Colette System—absolute studio quality. The capsule and amplifier of the CCM ("Compact Condenser Microphone") form an inseparable unit in a single housing. The capsules cannot be interchanged as in the Colette modular system.
Kapsułki i wzmacniacz CCM ("Compact Condenser Microphone") stanowią nierozerwalną jedność w jednej obudowie. Kapsułki nie mogą być wymieniane jak w modułowych systemach Colette.
Shotgun microphones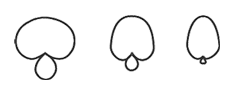 SCHOEPS shotgun microphones combine high directionality and high sound quality.
Schoeps Digital
SCHOEPS has over 10 years' experience in the development and manufacture of digital microphones. We recommend digital technology wherever it adds value as compared with analog technology. The special characteristics of the SuperCMIT (available only in digital form), as well as those of the digital CMD 2 Colette amplifier, make these products suitable for a broad range of applications.
Special Microphones

This category includes special capsules and compact microphones for close pickup of speech, our headset (with attached compact microphone), and our hand-held microphones for vocal soloists.
Stereo

SCHOEPS' large selection of microphones and accessories for M/S, X/Y, Blumlein, ORTF and A/B stereo recording allows the user to find the right setup for any recording situation. Our company is especially renowned for its highly adaptable M/S solutions often used in film sound recording, for example, as well as for its well-known stereo microphones such as the MSTC 64 U (ORTF) and the KFM 6 U sphere microphone.
Surround

Schoeps offers microphone arrangements for almost every available surround recording technique. Many surround microphone arrangements can be assembled with our standard microphones. Special accessories then allow for optimal usage of these microphones. Since there is essentially an infinite variety of ways to design a surround microphone arrangement, only a selection will be presented here. You can find further ideas and information in our Surround Brochure.
Accessories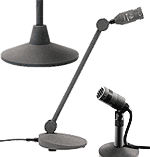 SCHOEPS puts a special emphasis on maximum usability for our microphones. For this reason, a large variety of accessories is available. These accessories are designed for long service life and for their ability to help the user adapt his or her microphones to the demands of any situation. The range of accessories is constantly reviewed and extended. We are furthermore committed to respond to individual requests as far as possible.
Preamplifiers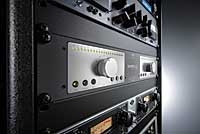 SCHOEPS offers two premium stereo microphone preamplifiers: the VSR 5 U - intended for mounting in a rack - and the VMS 5 U for portable use.
Direct access to the website: www.schoeps.de